Winter soup and wine pairing ideas
January is deemed to be the most depressing month of the year – but don't despair. Beat those winter blues with our delicious soup recipes, with Bordeaux wines to match. Now let's get cooking!
Pumpkin soup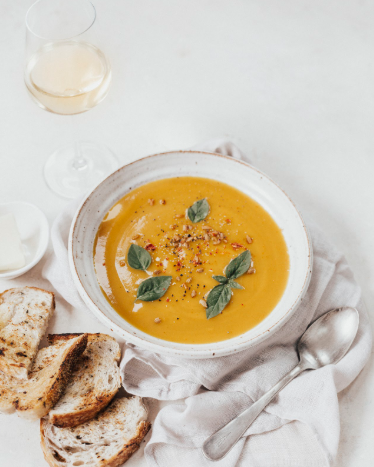 This roasted pumpkin soup is perfect for the colder months of the year. Thick and creamy, it's so flavourful, and even more delicious when paired with a glass of dry white Bordeaux wine.
Ingredients
1 medium pumpkin (1-1,5 kg)

1-2 carrots, finely diced

1 medium onion, diced

3 garlic cloves

Olive oil

1 tablespoon coriander seeds

1 teaspoon dried chilli

2-3 cups vegetable stock

Salt & pepper to taste
Method
Preheat the oven to 170°C. Half the pumpkin and remove the seeds, then cut into wedges. Drizzle with olive oil and season with salt and pepper, coriander and dried chilli. Roast for 45 – 50 minutes or until the pumpkin is tender.

Heat a tablespoon of olive oil over medium heat in a large saucepan then add diced carrots, onion and garlic. Cook for 10-15 minutes until soft.

When the pumpkin is ready and is cooled slightly, transfer it to a blender. Add vegetables and vegetable stock. Blend until smooth and creamy.

Serve immediately garnished with pumpkin seeds, extra chillies and some sage or basil leaves if desired.
Pair with a glass of JMS Sauvignon Blanc – with its preserved lemon crispness and attractive thyme notes – this wine would beautifully complement the rich pumpkin flavour and all the spices in this soup.
Leek and potato cream soup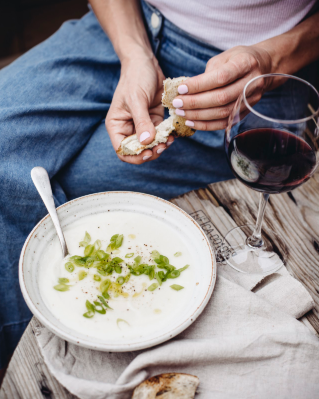 Quick and easy to make, this leek and potato soup is one of our favourite winter warmer recipes.
Ingredients
3 large leeks, chopped

1 onion, diced

50g butter

500g potatoes, peeled and cut into 1cm pieces

1 litre chicken or vegetable stock

3 cloves garlic, finely chopped

Salt and freshly ground black pepper

200ml single cream

2 tbsp chopped fresh parsley or chives, to garnish
Method
Melt the butter over medium heat in a saucepan. Add potatoes, cut into 1cm cubes, diced onion,  chopped leeks and garlic. Mix well. Season with salt and pepper, cover with a lid and allow the vegetables to cook for about 10 minutes or until soft.

Add the stock to the pan, stir thoroughly and continue to cook for a further 15 minutes or until the potatoes are very soft.

Purée the soup in a blender or using a handheld blender, adding a little more hot water if needed to reach the desired consistency.

Reheat the soup to a gentle simmer. Add single cream and stir thoroughly, then taste and adjust the seasoning.

Pour the soup into bowls and serve with chopped chives and extra cream, if desired.

Serve with bread and a light-bodied red Bordeaux wine, such as La Reine Collection Montagne St Émilion. Elegant, perfumed, with juicy cherry and plum fruit aromas, this red Bordeaux is a great match for the creamy leek and potato soup.
Pea soup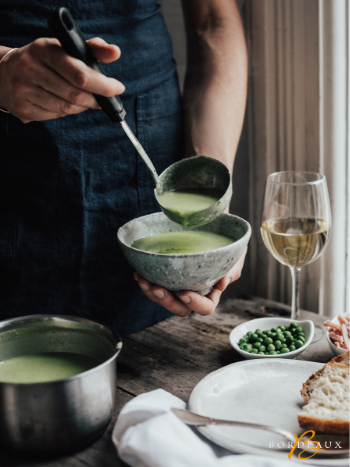 This healthy pea soup is one of the easiest soup recipes you will be making all winter long.
Ingredients
1 tbsp olive oil

2 g

arlic

cloves, chopped

1 onion, chopped

5 cups peas fresh or frozen

4 cups chicken or vegetable stock

50ml double cream or sour cream

salt and freshly ground black pepper

mint leaf, to garnish
Method
Heat the olive oil in a large saucepan over a medium heat. Add the onion and garlic and cook for 3–4 minutes or until softened.

Add the peas and chicken or vegetable stock and bring to a boil. Reduce the heat and simmer for 5 minutes., until the peas are tender.

Add the cream and puree the soup in a blender.

Pour the soup in bowls and garnish with a mint leaf.
The pea soup is best enjoyed with a glass of dry white Bordeaux from the Graves region (area with a lot of gravel), such as Château Saint-Jean-des-Graves. This wine has Semillon added to the Sauvignon Blanc to give the complexity of flavour that will take this otherwise humble meal to the next level.
There you have it – three easy winter soup recipes and wine pairings, ideal for lunch or a light supper.