Summer is finally here! Get ready to celebrate sunny days with picnics and delicious Bordeaux Wines.
Have you ever encountered this scenario? You have invited friends over for a meal but then get stuck at the office (or the beach) and run out of time to cook?
Don't worry! We've got you covered. Summer is a particularly good season for impromptu dinner parties – whether outdoor or indoor – and today we'll give you a 'cheat sheet' for planning the perfect charcuterie and cheese spread, paired with some delicious and affordable Bordeaux wines, of course!
Charcuterie originated as a method of preserving meats (especially, but not limited to, pork and offal) long after they would have otherwise gone bad. The term encompasses pâtés, terrines, saucisson, rillettes, and many other preserved meat products. Today, charcuterie remains the perfect choice for a 'French picnic' since it eliminates the need for cooking, and won't spoil quickly even if left out in the hot summer sun.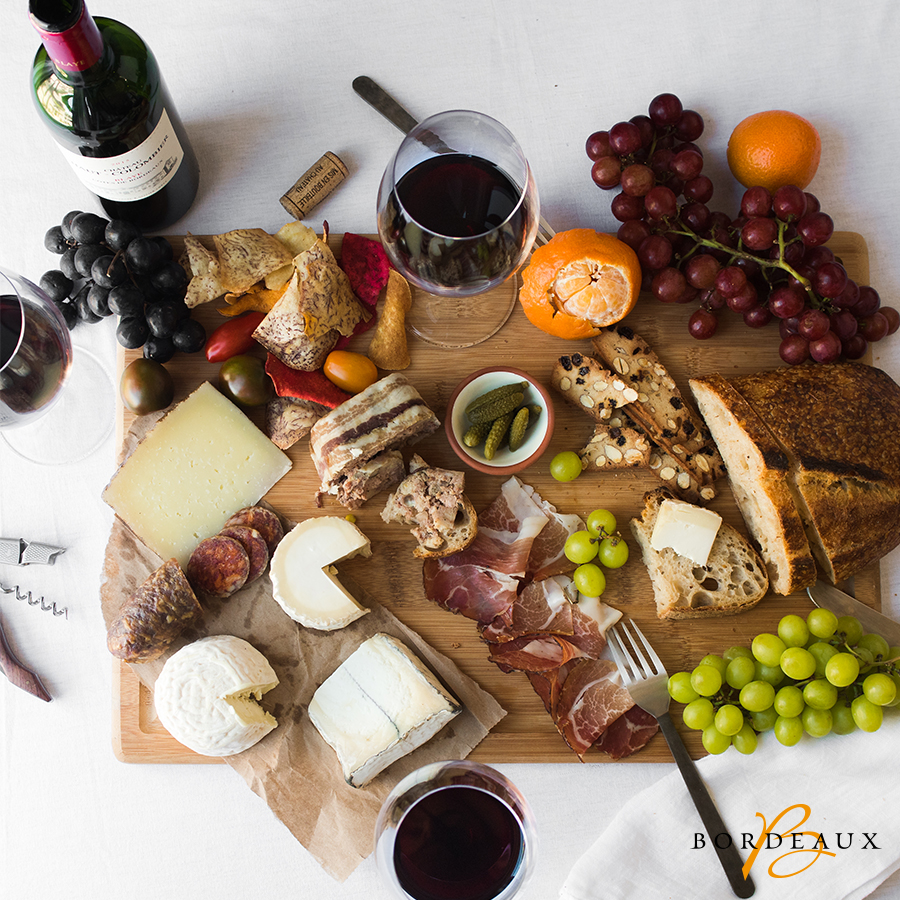 When it comes to which charcuterie and cheeses to buy for your picnic, we're going to provide you with a general shopping list since specific products / brands will depend on availability at your local cheesemonger, butcher, or grocery store.
We'll start with the most potentially controversial item on your shopping list first: pâté. Not everyone loves pâtés, but you really need at least one for a proper French charcuterie spread. We like to believe that even your guests who think they don't like pâté may be surprised once they taste a really good one. Pâté de campagne, or "country terrine," tends to be a crowd-pleaser since its rustic preparation and minimal amount of liver (compared to other pâtés) make it more easily acceptable to even skeptical palates.
Saucisson sec, a thick, dry, cured sausage, is similar to – and, in a pinch, could be replaced by – salami or summer sausage and is the second item on our list due to its omnipresence at any French picnic. Saucisson sec is made primarily – or entirely – from pork, but regional varieties abound and can include garlic, black pepper, or even fruits, nuts, cheeses, or types of liquor. If you want a third meat option to complement your pâté and saucisson sec, you could consider duck rillettes or thinly sliced cured ham.   
Now that you have a few meats on your charcuterie board, you'll want to offer a variety of different cheese styles:  one or two semi-firm or firm cheeses and at least one soft cheese. Manchego is a firm sheep's milk cheese with the ability to pair nicely with many different cured meats. Chèvre (a goat's milk cheese) is a good soft cheese choice, especially when paired with firmer cured meats such as saucisson sec.
Cornichons, the classically French, small, tart, pickled gherkins, are a wonderful addition to any charcuterie spread, if you can find them, although almost any sort of pickle will do the trick of 'resetting' your palate between rich bites of cheese and cured meat. Finally, a good baguette is practically a must (although any rustic, freshly-baked bread will do in a pinch) and some French mustard is highly recommended.
As for what to drink with this picnic feast, we have many recommendations for delicious, easily obtainable wines. First off, we propose a refreshing, dry white Bordeaux, such as 2012 Château de Sours (Bordeaux Blanc). Affordable and delicious, this wine has bright, lively citrus flavors laced with subtle oak that make it a perfect pairing with any young cheese.
Another good choice is 2009 Château Tour Léognan Blanc (Pessac-Léognan) — a richer, more full-bodied white with more evident oak. It shows an attractive combination of vibrancy and development – minerally with a fleshy palate and persistent, elegant flavors. It will work equally well with the chèvre and meats on your picnic platter.
If you're looking for a red wine, look to the Right Bank – to the Côtes or Saint Emilion – for a Merlot dominant wine. One delightful suggestion is the 2011 Château La Raz Caman (Blaye Côtes de Bordeaux). Its layered flavors of plums and other red fruits along with hints of eucalyptus, tar, and leather aromas make it an ideal pairing for any cured meat.
Finally, if your budget is a bit more forgiving ($40+ retail), consider the 2013 La Mauriane (Puisseguin Saint-Emilion). Flavors of ripe black plums and cloves married with aromas of blackberries, wildflowers, vanilla and allspice make this complex red wine the perfect companion for pâté de campagne or almost any other rich cured meat.
Enjoy it with Bordeaux wines!