Bordeaux's White Wines
Yet before the 70s – when red came to prominence due to the market's developing style and taste – Bordeaux was predominantly a producer of white wine. It's also the region where the Sauvignon Blanc grape is said to originate. Although they are produced in much smaller quantities, today's Bordeaux's white wines (dry and sweet), still represent over 10% of the region's production.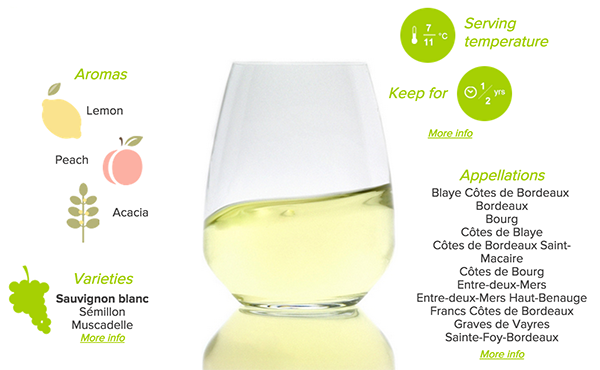 White Wine Styles
Most of Bordeaux's dry white wines are consumed young, such as styles from the Entre-deux-Mers region, whereas wines from Pessac-Léognan, are sought after for their complexity and strength, as well as aging potential. Bordeaux's dry white wines range from crisp & fruity with aromas of lemon, peach and acacia, to structured & generous, which boast flavours of grapefruit, hazelnut, peach and wild flowers.
The terroir where Bordeaux's sweet white wines are produced stretches along the banks of the Garonne River, just south of the city of Bordeaux. Both styles: mellow & fruity and unctuous & intense are produced from grapes, which have been intentionally allowed to over-ripen, and some wines – in particular, those in our unctuous & intense tasting notes, are produced from grapes that have been infected with Noble Rot. The results are sweet golden, syrupy wines that are elegant and smooth, with a opulent bouquet of honey, candied orange, pineapple, acacia and mango.
Grapes
The three main grapes used in white wine are Sémillon, Sauvignon Blanc and Muscadelle.
Sauvignon Blanc
According to historical sources Sauvignon Blanc is said to have originated from Bordeaux. It has also been claimed to get its name from 'Savage', the word for wild in Frenc, as it was found growing wildly in the South West of France. The grapes grow mainly in the Entre-deux-Mers, Graves and the Pessac-Léognan regions.
Sémillon
Bordeaux's semi-sweet and sweet white wines are mainly produced from Sémillon grapes and the variety is also often blended with Sauvignon Blanc for dry white wines. Semillon adds richness, roundnesss and an elegant bouquet of honey and apricot aromas.
Muscadelle
Only a small amount of muscadelle grape juice is blended with other varieties to create both dry and sweet Bordeaux white wines, normally no more than 10%. It's a delicate grape variety, but contributes rich, musky floral overtones.